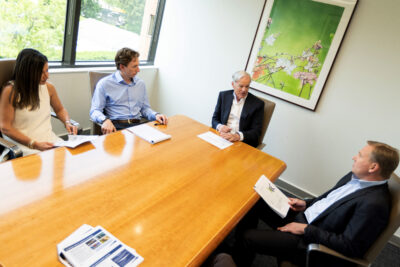 Unlike most middle-market private equity firms, NTC's investment philosophy isn't built around short-term financial performance, liquidity horizons, and investor mandates.
Instead, we treat every acquisition as a long-term equity investment, focusing on maximizing the operating and growth potential of our portfolio companies. This ensures we deliver long-term value for our principals and investors while also providing greater flexibility and stability for sellers.
Underpinned by our three core values of flexibility, confidentiality, and integrity, our unique approach means we operate more like a strategic acquirer than an investor who trades in businesses. It's what we call the NTC experience.
Tailored approach
We believe there's no such thing as a standard ownership model. Every company is different, which means the terms and structure of every investment we make is different too.
Seamless transition
We help founder-led and family-owned firms transition to new ownership without disruption to their operations, people, or culture.
Flexible sales structure
We structure transactions to be tailored to the needs of sellers, including offering sellers the opportunity to retain a portion of company ownership, make a complete exit, or even reverse course if the sale isn't working as they had hoped.
Post-sale stability
Our long-term equity investment approach ensures we offer continuity and stability for employees, communities, and customers post-sale.
Strong relationships
We believe trust and long-term relationships between buyers and sellers are essential for maximizing value and preserving the unique characteristics of the business.
Tax efficiency
We provide technical expertise to help sellers improve the tax efficiency of the sale of their business.